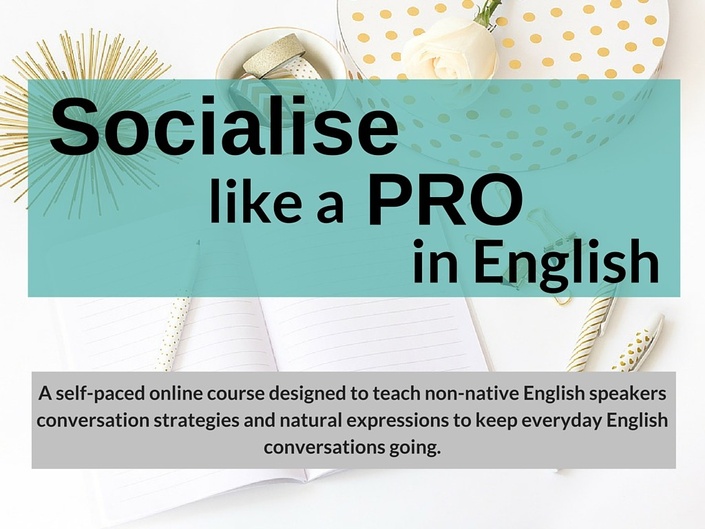 Socialise like a PRO in English
Do you struggle to have casual, spontaneous conversations in English?
Does the following sound familiar?

You might have an intermediate or advanced level of English and you can probably communicate and understand conversations well but being spontaneous and making small talk is a struggle for you.

You don't look forward to meeting native English speakers at social gatherings because you can't speak as spontaneously and naturally as you would like. Maybe you manage to get the conversation started but then you get stuck. You may start to worry "What should I say next?" or "How should I respond?"




You don't want to feel "awkward. Rather, you want to fit in with your native English-speaking friends. You want to be confident when you chat with native English speakers. You don't want to stand out as the "weird foreigner".



Is that how you feel? Then you're in the right place.
I'll teach you important strategies and expressions so you can avoid the awkwardness and be confident and fit in with native English speakers.
Introducing: Socialise like a PRO in English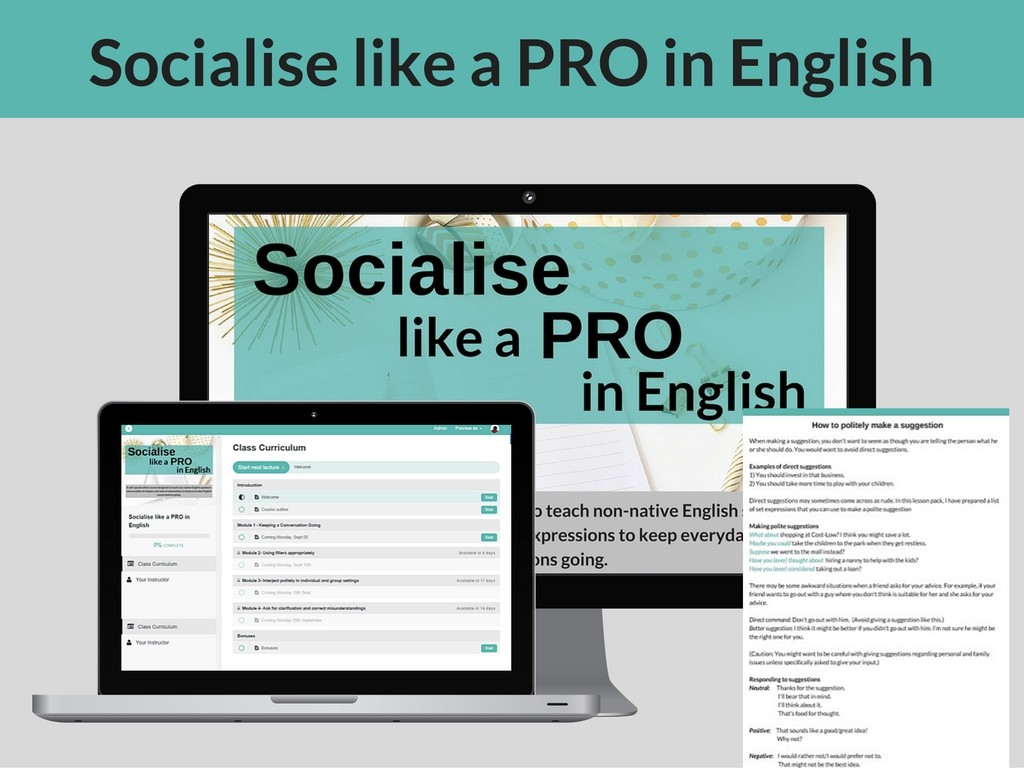 What will your life and your English conversations be like after you take the Socialise like a PRO in English course?
I'd like you to imagine yourself in the following situations:
Situation 1: You'll no longer worry about coffee breaks at work. Actually, you'll look forward to them. Imagine how confident you will feel as you sip on your cappuccino and have a casual, natural conversation with your native English-speaking colleague, maybe chatting about your plans for the upcoming weekend!
Situation 2: You'll be at your friend Jessica's party and mingling and chit-chatting with a group of native English speakers. Imagine how you'll feel as you have a spontaneous conversation! You'll feel like you fit in and that you're no longer an outsider or the "weird expat". You might even make some new friends!
Situation 3: The next time you're in the US for a vacation, you'll no longer need to be anxious when native English speakers make small talk with you. You'll be able to respond spontaneously and naturally and engage them in a conversation.
Can you imagine those situations?
You'll no longer feel like an outsider!
You'll finally fit in!
You'll feel accepted!
You'll feel confident!
What exactly is Socialise like a PRO in English?
•Self-paced
•For intermediate and advanced learners of English.
•This course will teach you 7 important conversation strategies that you need to use to speak more spontaneously and naturally and be able to socialise like a PRO with native English speakers
•Multimedia format- video commentaries, audio recordings, transcripts , workbooks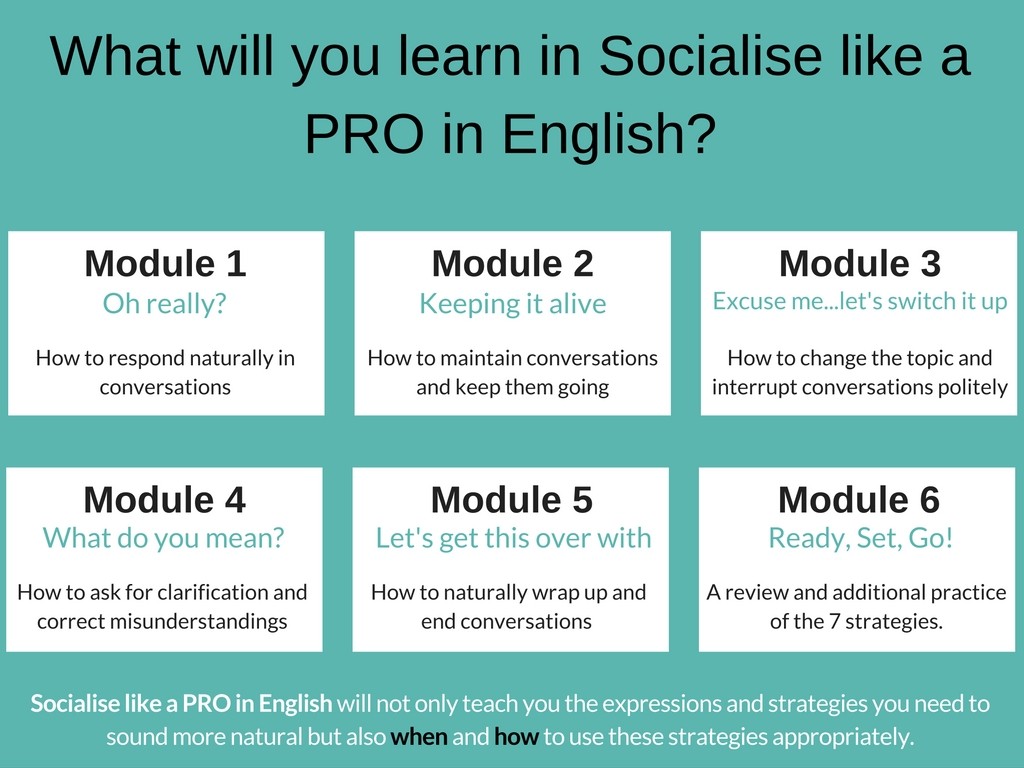 Bonuses
1) Mini-guide : Conversation Starters 101
2) Interview video lesson: Tips to understand informal English (By Cara Leopold of Leo-Listening)
3) Facebook students-only study group
Hear what Dominique from Paris had to say about the course!
Your Instructor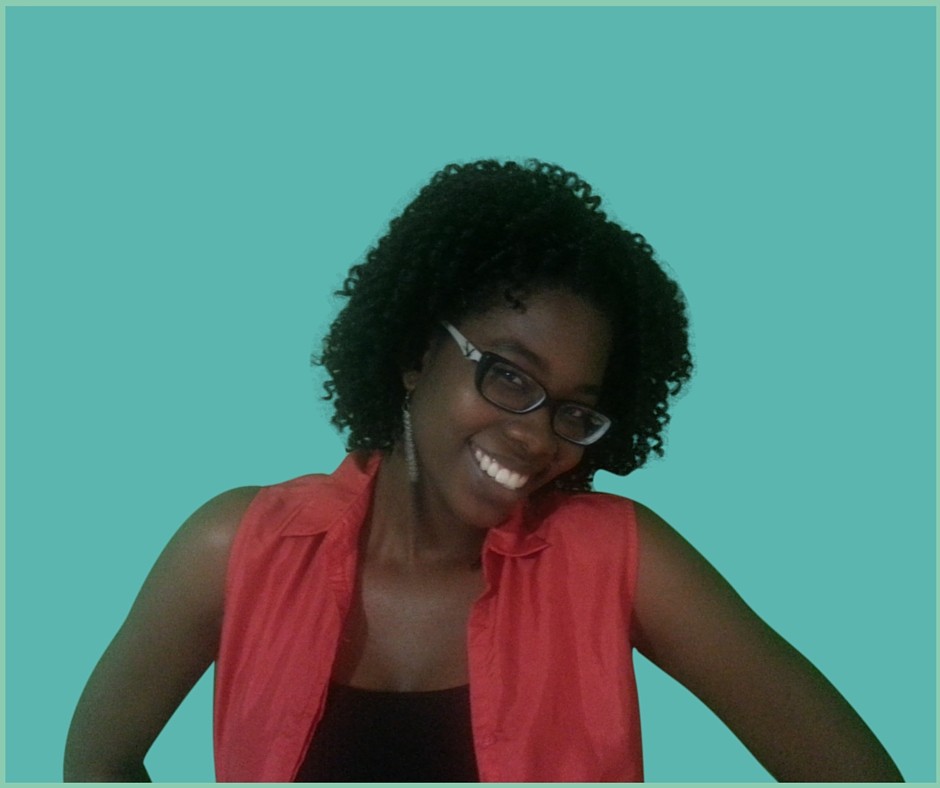 Hi! I'm Leandra, the founder of English with Leandra. I'm a native English speaker from Barbados who is passionate about languages and culture. I help intermediate and advanced English learners master small talk and spontaneous everyday conversation in English, so they can fit in with native English speakers.
I totally understand your feelings and frustrations when it comes to having casual conversations in English.
I've had the same struggles with French. In 2013, I moved to Martinique, a French-speaking country, to work as a language assistant at two schools. I had a high level of French so I could follow conversations in French pretty easily and I could also communicate with others BUT I still struggled to make small talk and to have casual, everyday conversations in French. Because of my experience, I can empathise with you and that's why I want to help you.
Frequently Asked Questions
When does the course start and finish?
You will receive the first module on Monday 05th September and the last one on Monday 10th October. However, it is a completely self-paced online course - you decide when you start and when you finish.
How long do I have access to the course?
How does lifetime access sound? After enrolling, you have unlimited access to this course for as long as you like - across any and all devices you own.
What if I am unhappy with the course?
I would never want you to be unhappy! If you are unsatisfied with your purchase, contact me in the first 30 days. All I require is that you show me that you've done the workbook activities. If you've done the activities and you are still unhappy with the course, I'd give you a full refund.
Who is this course for?
Socialise like a PRO in English is perfect for you if you're an expat living in an English-speaking country, if you work with native English speakers or if you travel regularly to English-speaking countries and you want speak more spontaneously and naturally in casual conversations. This is not a course for beginners. It's for intermediate and even advanced speakers. It's not a grammar course.
These conversation strategies will completely change the way you interact and socialise with native English speakers in the future.

Socialise like a PRO in English is designed in a logical, easy-to-follow format.
If you do the work and practice exercises, you'll be able to master 7 important conversation strategies and be able to use them when you're having casual conversations with native speakers.
Imagine being among a group of your native English-speaking friends. The evening is full of laughter. Everyone is enjoying each other's company. You're able to be more natural and spontaneous and to speak more confidently during casual conversations. Wouldn't that be nice?